Financing a Second Home: A Case Study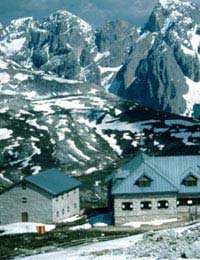 The number of British people opting for a second home abroad is increasing by the day, the lure of sunnier climates is tempting people out of the UK. Many people forget that when they are buying abroad that the process is sometimes harder than it would be buying a second home in the UK.
Television advertisements can sometimes make it look too easy to buy abroad, it doesn't have to be difficult but you should not think about buying a second home unless you are financially comfortable.
This case study gives an insight into one couples experience of buying a second home abroad.
Frank and Joan had always loved Austria; they had been their several times on skiing and walking holidays and decided it might be a nice place to retire to and buy a second home. They still had a home in the UK they wanted to keep because they had a son and daughter living nearby.
Researching the Area
"We had been on holiday to Austria several times and felt very at home there, we had no idea where to start when it came to buying a property there though. We knew the area in which we wanted to buy but that was about it.
"We had looked in a couple of estate agents windows while we were out there so we had a good idea of how much a property would be to buy.
"One of the estate agents in Austria advised us to speak to somebody in England first," says Frank.It is normally advisable to learn as much as possible about the area you wish to buy a property in. You should spend some quality time there and make sure you know all of its good and bad points. Frank and Joan were already quite familiar with the area they wanted to but in.
Financing a Move
"We looked on the Internet and found a mortgage adviser nearby that said it offered mortgages for foreign properties. We went to visit them and were surprised to learn that a few lenders in the UK offered mortgages for properties abroad.
"We had already saved up a lot of money for the property but we would still need to lend around 20% of the property's value, we were both going to continue working part time while we had the property so we didn't think this would be a problem," says Frank.
The specialist mortgage broker they had enlisted the help of a specialist firm that dealt with buying properties overseas. They were able to arrange all of the necessary legal work that needed to be done on the property. The firm has a number of local contacts and arranged a translator and solicitor in Austria.
"Once we had found a property we wanted to buy we then went about finding the mortgage, we decided to stick with a UK mortgage. We could have opted for a Euro mortgage, but because we would be receiving our wages in pounds we decided to stick with this currency," explains Frank.
"We were told it would be better if we could rise as much cash as possible to buy the property outright. They also warned us that if we failed to make the payments on our second mortgage we would also lose our house in the UK," says Frank.
Carrying Out the Right Checks
"The specialist that we visited made sure that all the checks were done on the property and all our legal arrangements in place. We were quite cautious about buying abroad because we had heard about people not carrying out proper checks when buying abroad and losing a lot of money," says Frank.
Depending on where you decide to buy your second home the chances are they will have very different laws and regulations to the UK when it comes to buying a property. Frank and Joan did not mind paying the extra money for an overseas specialist because they trusted that they were getting good service.
"We were investing a lot of money so we asked the broker if we could speak to a few people he had arranged an overseas mortgage for before: which he was happy to do," explains Frank.
Frank and Joan had a relatively straightforward experience of buying a second home. If you are thinking about buying a second property abroad it is essential that you seek out qualified advisers and solicitors who can help you with the different culture and home buying process.
You might also like...