Refurbishing a Property Abroad: A Case Study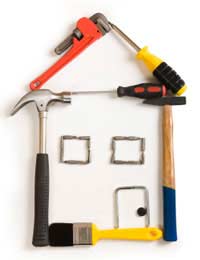 Taking on a second home abroad can be challenging in itself, but taking on a refurbishment project abroad can be a daunting experience if you are not properly prepared.
Refurbishing a property abroad can make commercial sense if you do it properly but taking on a refurbishment project abroad is not for the faint hearted.
Paul and Angie had always seen themselves as sort of entrepreneurs, they wanted to buy a second home in France for investment purposes and their main goal was to make as much money as possible from a refurbishment.
Choosing Your Location
Paul and Angie were going to have to share their time between their second home and their current home in the UK so they wanted somewhere that was going to be close to home. They had been to France a couple of times and knew there was quite a lot of land that they could buy for renovation.
"We had spotted an old run down property that had lots of land attached to it, it was located not too far away from the local town and we could envisage it being a beautiful home once renovated," says Angie.The property had been for sale for quite a while so they were able to get it for a bargain; the main problem was going to be financing the refurbishment.
"After we had bought the property we then enquired locally about architects in the area, we knew a little French but we were not confident enough to speak fluently in French. Luckily the architect we found spoke good English, if not we would have had to get a translator.
"We worked with him to design the property and how we wanted it to look. We also made enquires locally and looked in estate agents to see how much properties were selling for in the local area. We wanted to make sure we were not spending more on renovating the property then we would be able to sell it for," says Angie.
Planning Permission
Once they had the plans drawn up the next step was to get planning permission for what they wanted to do. They did not have an extreme makeover in mind, but they did want to out a small extension on the back of the property.
"Getting planning permission seemed like an uphill struggle. It took us one year to get the permission, which meant a lot of money on trips to France and correspondence with our architect. Once we had the planning permission the next step was the cost.
"We visited a special self-build firm in the UK which agreed they would lend us money to carry out the refurbishment. They carried out their own checks on the property to make sure what we wanted to do was achievable. They agreed they would lend us the money in stages and monitor our progress as we went along.
"We both had jobs in the UK so apart from the travelling the extra cost was not going to be too much of a strain," says Angie.
Building Work
Paul and Angie found it was quite hard to monitor the work that was happening in France so they employed somebody to monitor the builders and make sure they were doing what they should be doing. The architect was able to put them in contact with somebody who could help them.
"As the building work went on our French surveyor was able to make sure that the builders were following all of the French guidelines and building regulations.
"Once the property was finally built we put it on the market straight away.
"We were able to make about a £30,000 profit, which was great. All in all the process had taken us just over two years from start to finish, I would not recommend refurbishing a property if somebody is looking to make a lot of money quick, but if you want to build your own second or holiday home, it is a great way to create your own plans," says Angie.
Refurbishing a property to be your second home can be a great way to have complete control over your overall design, but think carefully before you embark on a refurbishment project because it could mean a lot of hard work.
You might also like...