Costs Involved in Owning a Canal Boat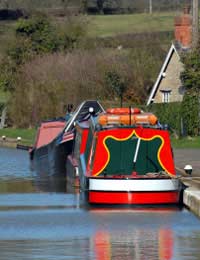 The romance and escapism associated with canal boats has made them a sought after asset.
Holidaymakers, those who want to escape inner city living and those after a different way of life have all been drawn to the idea of canal boats, but as demand increases, so does the costs.
There are many different ways to own a canal boat, some will only cruise for a short time while others will want to stay in the same place all year round. The costs will vary depending on your specific needs and type of canal property you want.
The Cost of a Boat
The cost of a canal boat can vary greatly depending on what kind of boat you are after. The newer and larger the boat the more it is going to cost, whereas a second hand boat will be a lot cheaper.
If you plan to spend a lot of time on the boat it may be wise to invest in a boat that is fairly new as it is less likely to break down and will cost you less in upkeep.
A boat that has a licence for you to live aboard whether in the UK or abroad will be more expensive than one that does not. For example, a new boat roughly 60ft x 10ft, with two bedrooms, central heating and modern appliances is likely to cost you around £100,000.
If the boat is roughly ten years old the cost will be nearer to £50,000 - £70,000.There are some bargains out there though and it is possible to buy a second hand boat with no residential licence from as little as £15,000.
If the boat does have a residential licence attached to it, the location of the plot could also drive up the price of the boat. Buying a boat is much like buying a plot of land, the more desirable the location with the more anmenities the higher the price will be.
Running Costs
There are some costs that you will have to pay regardless of what you want to use the boat for.You will need to buy insurance for the boat, the cost will depend on the size of your boat and how valuable it is, but as a guide it will roughly cost between £220 to £350.
Your moorings costs are likely to be your biggest cost. These can range between a few hundred pounds to the few thousands pounds dependent on the location in the country and abroad.
A residential moorings licence, which means you can live at the site will cost more and you will normally range in the thousands of pounds. You will also need you British Waterways licence which costs around £500.
You will need to keep some cash aside for maintenance work that might need carried out on the boat. Every year it is a good idea to have around £500 spare to carry out an emergency work that needs to be done.
If you plan to travel anywhere on your boat and explore the canals you will need to fill the boat with diesel, which costs around 40p per litre.
Other Costs
The other costs associated with your canal boat will vary depending on how long you plan to stay in the boat and how much you do when onboard. If you plan to do any cooking you will need to buy gas to heat the boat which costs around £15 per bottle and coal to heat the boat which can be picked up fairly cheaply.
There is also the unfortunate job of pumping your toilet out if you do not have a portable loo. These costs are relatively low and will only cost you at the most £15 per tank.
If you are using the canal boat as a second home it is unlikely that you will be on it all year round, but assuming you are on it for half of the year it would be good idea to set aside around £3,000 in running costs and maintenance.
This may sound like a lot but when looked at in comparison to maintaining and living in a property and car it equals out. You will also save money on your travel to and from holiday destinations as you will be using your boat as you transport.You should also view your canal boat as an investment and like a property once you are ready to move on you will be able to sell it on.
You might also like...