Being a Landlord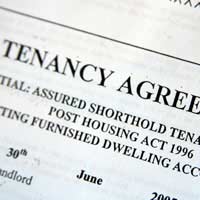 People choose to become a landlord for a variety of reasons. For most, the future financial security of owning a number of properties with the immediate income from rental is a positive financial step for the future. There are a variety of ways to become a landlord and each has it's own downfalls and successes.
You can rent out an area in your own home to a 'lodger'
You can buy a property and be completely hands on, dealing with the letting and upkeep of the place
You can purchase a property and leave the daily maintenance and rental issues to a letting agency who deal with it on your behalf
Renting Out An Area In Your Own Home
When you decide to rent out part of your own home to a stranger, you're faced with a few choices. Firstly it's very important to ensure you set the boundaries early on and find someone you feel you could live with. Start off with a short term lease that specifies every detail of their tenancy, right down to food, cleaning and time keeping. This will save any issues further down the line. Also, make sure that you receive the rent directly into your bank account on a regular basis. Familiarity can lead to people asking for favours and it can be difficult to reclaim unpaid rent if it goes on for a few months.
Buying A Property And Being A Hands On Landlord
One of the most positive aspects of being a landlord to a property you own is that you don't have to pay any expensive agency fees for the maintenance. Also, you can source companies to carry out any work that may need done, thus guaranteeing you're happy with the price you're paying. One of the negative aspects is that you will also have to find tenants in the first place, draw up your own legal tenancy agreement and deal with any problems receiving rent. This can prove to be too much trouble for many and if you're simply looking to invest in a place that will increase it's value over time, this probably isn't the best approach for you.
Purchasing A Property And Using a Professional Property Management Company
For a relatively stress free landlord situation, it's better to employ the services of a company that deal with this on a daily basis. They will search out new tenants for you, ensure they have good references, and collect rent from them on the due date. One of the aspects in dealing with a management company however is that it will cost you a percentage of your rental income. Shop around for the best deals and be wary of anyone who promises to pay your rent for you during any period of unoccupancy. Normally for a company to ensure this happens means you pay an increased percentage of your monthly income.
Landlord Legal Necessities
Regardless of which approach you take to being a landlord, always be fully aware of your legal responsibilities to your tenant. This will cover you in the event of any problems during a tenancy. If you don't make sure you're following the law, there can be severe penalties if something goes wrong. The Landlord and Tenant Act 1985 outlines a number of areas that should be specifically paid attention to. It is your duty to
Verify that all gas appliances are safe
Make sure the property is damp proof
Ensure all electrical items are safe
Make sure that the property ventilation is legal and that there is plenty of heat and lighting
Check that the exterior of the property and the structure in general is well maintained
Provide furniture that meets the fire regulation standard
What Rights Do Landlords Have
Although it may seem at times that the tenant has all the legal rights in a tenancy agreement, as a landlord you are also granted a variety of legal rights to protect yourself and your property. Always allow for general wear and tear of the property, but if you have stated that it is the tenants responsibility to maintain and keep in good order the property and any communal area, you have a right to question this if you don't believe it is being upheld. You are also entitled to attempt to get any unpaid rent and to take this matter further if you don't receive it from your tenant. Your tenant should also be responsible for any utilities used and you are exempt from paying these if it is clearly stated in the agreement. Always try and respect your tenant and hopefully they will respect you and your property. Don't show up unannounced and don't enter the property during their tenancy without permission from them. This goes a long way to helping you have a positive and friendly landlord/tenant relationship.
You might also like...