Cleaning, Maintenance and Security of Your Second Home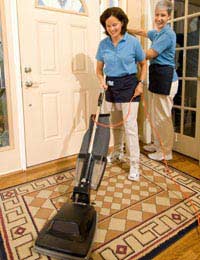 When you buy a second home to rent out, it's only natural to have concerns about the tenants that you're renting to and whether they'll look after your property. For many people, it can be a nightmare if the wrong tenant is put into your property and you have to deal with the cleanup when they leave. For most people who own a second home, it's advisable to deal with a property management company who will ensure your home is well cared for during any tenancy. There are always other options of course when it comes to cleaning, maintaining and keeping safe your property.
Cleaning your Second Home
Many people who decide to buy a second home to rent out find that their good intentions of being the person who cleans it on a regular basis on cleans it after each tenant leaves simply don't come to fruition. Regular life and work tends to get in the way and the thought of having to go and carry out a deep clean when a tenant moves out isn't the most appealing thought in the world. For some, hiring a cleaning company to go in at the end of the tenancy can be a good idea. This will often simply be a one off cost, although some may offer their services on a regular basis. The other option is to deal with a property maintenance company who will deal with the cleaning of your property for you when your tenant leaves. This eradicates any action on your part, but always ensure that they're not overcharging you for this service and that you're satisfied that the cleaning being undertaken is up to your own standard.
Maintenance of your Second Home
Maintaining your second home in a clean and safe manner is not only legally your responsibility, but morally you should want to ensure your tenants and your investment is completely safe too. Many people are happy to take on the responsibility of maintaining their property and carrying out any repairs or odd jobs that the tenant may require. This is fine and is probably cheaper overall, but it does mean that you have to be available 24-7 or ideally have good contacts within certain trade industries. If a tenant calls you at 3am to tell you they have a burst pipe, it's unlikely to be something you want to deal with, so in these cases it's good to have a backup.
Try and develop a good relationship with the same trades people so you can call on them again if needed. It's always important to get a variety of quotes for any work that needs carried out though, so don't just go along with the first quote you're given. If you decide that being on call isn't for you, get your property management company to deal with the maintenance of your property. Ensure that they contact you with a variety of quotes for any large work that needs carried out though. It's often better to have it written into your contract with them that you're happy for them to go ahead and carry out any work that needs done to a certain value, but once the quote for the work goes over a certain amount, specify that they are to contact you before going ahead.
Security and your Second Home
Securing your investment is one of the most logical and crucial areas of owning a second home. When you trust other people to live in a property that has possibly cost you a sizeable amount of money, it's paramount to ensure that you can keep it as secure as possible. There are some very straight forward safety plans to implement to keep your home secure. Firstly, every time a tenant moves out, you should consider getting new locks on the property. Some people simply ask for all copies of the keys back, but people can of course make copies of most keys so this isn't 100% effective. If you can get security keys that are unable to be copied then this would suffice - either way, ensure your previous tenant has no access to the property.
Always make sure that your insurance is up to date also for your second home. Many insurers will offer policies specifically for those who let out their home. This will help you personally feel more secure about your property as you'll know it's covered for any eventuality. In particular, with tenants there is a greater risk of damage and of course if you allow smokers, there's a great risk of fire. Having a good insurance policy in place helps with these issues. For practical security issues, consider fitting an alarm to the property also. Again, when tenants move out, change the code and if you want to be extra secure, have it monitored back to a base station. This gives you extra peace of mind, but make sure the tenants use it when they go out! There's no point in having an expensive alarm system that your tenant never switches on.
Overall, there are numerous ways of looking after your investment. Whether you use the hands on approach or go for the distance approach through a property management company, always ensure that you feel happy with your arrangement. Keeping your investment safe is going to hopefully help it grow in capital growth over the years so it's definitely worthwhile.
You might also like...