Does My Canal Boat Count as a Second Home?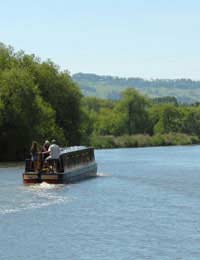 Canal boats have soared in popularity amongst the retired community and those looking for a more adventurous style of living. Narrow boats as they are commonly referred to are also popular for those who already own a first property and wish to use a boat for holidays and relaxation time.
Many view this way of living as a cheaper alternative to buying a property and when they weigh up what they can get for their money they decide a canal boat is better than a one-bedroom flat in the middle of a crowded city.
But in reality the costs of living on a narrow boat can be great and it can be hard to make it a permanent residency.
Does it Count as a Home?
There is some controversy around when and in what circumstances a canal boat is classed as a residency.
A lot of people will try and dodge the liabilities that are associated with permanently living on board a canal boat, such as council tax by moving between different moorings.But the British Waterways is trying to crack down on this and is increasingly discouraging people from staying within the same area but moving between moorings.
If you plan to keep your boat stationary in one place you will need an official residential moorings licence. Some boats you can buy come with this licence, but you will end up paying up to double the price of the boat if you want the licence as well. This is the best way to get this type of licence though as it can be hard to obtain separately.
These types of licences are also in short supply and when it comes to finding one, money is often the only way to secure a deal. British Waterways offer some residential moors, as do some boatyards and marinas.
If you do not plan to apply for a residential moorings licence you will need to move your boat every couple of weeks and travel around on a continuous basis. It will not be enough to simply move your boat from one location to another within the same geographical area. You will only be able to stay on the boat a matter of weeks if you do not want it to be classed as a residence.
Liabilities of a Second Home Boat
If you do intend to pitch up and make the mooring your second home you will be liable for all of the taxes you would if it was a normal residential property.
On top of this you will also need to pay your mooring and maintenance fees which will differ depending on which are you are mooring in. Costs in London and the South will be significantly higher than those elsewhere and could range between £200 and £1,000 a month.You will also have to pay your normal utility bills and house keeping costs. If you have a residential mooring you will also be liable for council tax in the area you are living.
The Practicalities of Having it as Your Second Home If you do not plan to live in your boat for a large period of the year it could become costly as you will be liable for the same costs as you would were you treating it as your main residence. Each local authority will have its own rules, but it could be that you are entitled to a reduction in your council tax if you are treating it as your second residency.
The one advantage to having a narrow boat as your second property is that it is unlikely you will have taken out a mortgage on the boat so you will not need to seek a lender's permission if you want to rent out the property.
If you do plan to rent out your boat you may want to consider how practical this will be. If you are not going to be on hand to deal with any problems with the boat you will need to employ somebody who is on hand to rectify any problems and this could be very expensive.
Owning a canal boat can be a lovely and relaxing way to spend your time. Purchasing the boat may be cheaper than buying a second home, but if you want to use the boat as your part or full-time residency you may have to have a big wallet to meet the costs involved.
You might also like...