Travelling to Your Second Home and the Costs Involved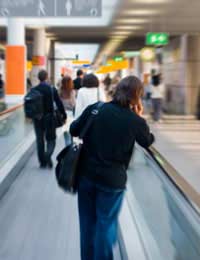 When many people decide on buying a second home, they often don't take into account that they may need to travel to it often for a variety of reasons. Even if you're using a property management company, you may still have reason to visit your home every now and again and because of this, it's very important to factor travel costs into your budget when you decide where to buy.
Buying a Second Home Abroad
If you intend to purchase a second home abroad, it is essential to consider the travel costs when you do so. Even if you think you may rarely need to visit, setting up the purchase of your home and dealing with any legal issues may mean you have to be physically present in the country so you must factor in these costs before you buy. Many real estate companies will pay your airfare for you if you're going on a 'recon' visit to check out what property they have available abroad. These offers are usually for visits to Europe and don't often include long haul trips, although it is becoming increasingly popular to offer such trips to places like Florida too.
If you're interested in taking a reconnaissance trip, speak to some of the specialist property abroad dealers as they often get you out there for 3 days to look around, at no cost to yourself. During this time of course, you have to be available to view a certain number of places and often they have a clause in the contract that states if you don't buy whilst there you need to incur the travel costs yourself . Always look into the small print with these before jetting off. The last thing you want is being unable to secure a property and then being stuck with a bill for your airfare and accommodation.
Buying a Second Home in the UK
If you decide to buy a home closer to your permanent residence, obviously travel costs will be far less of a burden on your wallet than when you buy abroad. However, what you do have to think about with regards to travel costs within the UK is just how often you plan to go back and forward to your second property. If you plan to be there every weekend, try and find someplace near where you live. Travelling back and forward may sound idyllic, but if you feel you're paying more to get there, eventually you're likely to end up avoiding going to your second home at all, and then you'll have to arrange renters and property management.
The other side of the issue with travel costs is that if your home is closer to you, you're more likely to attend when needed and you should also consider the travel costs of this. If you do travel to your second property for business reasons, keep receipts of all the journeys made as you may be able to claim some of this back in your taxes.
Ultimately, consider your travel costs to your property as part of the ongoing expenses incurred for you. You'd be surprised at how easily they mount up and over a period of time and you should incorporate these into the actual loss or gain you're making from your property.
You might also like...