Renovating your Second Home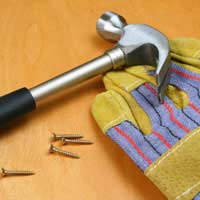 Renovating a second property differs from working on your home in many ways, depending on where your second home is located. If it's situated in the same country you live in your primary concern may be taking extra time off work to over-see the renovation, if you are not doing most of the work yourself. If you own property abroad however, you will have other matters to concern yourself about.
Customs in other countries may take a little getting used to. For instance a Spanish siesta cuts into the early afternoon, which means that all work stops for a few hours. This can mean that a job you envisaged taking two weeks to complete suddenly appears more likely to be finished in two months time.
How to Find Professional Tradespeople
Ask your neighbours, and local people you encounter day-to-day, if they have recently had any work completed.
Drive, or walk, around the area surrounding your home and check for property that is currently being renovated. Enquire within, and ask for details of the work – whether it was completed on time and to a satisfactory standard.
Ask if the work was completed within budget, and if they would use the tradesman or company again.
Bear in mind that if your second home is in another country, and you do not yet speak the language, you may have to use the skills of an interpreter or friendly, trust-worthy local person, when communicating your needs.
Questions & Answers
Find out as much as you can about any professional tradesman, team or company you are planning to employ. Get a list of references and check these carefully. Where possible visit the sight of work they have completed, and make arrangements to meet the tradesman on a job they are currently working on. This might seem like an unnecessary indulgence but taking the time to find a professional who does a quality job is well worth spending a bit of time over.
Get a quote for the job, and repeat the process with at least two other professionals. This will allow you freedom of choice over who completes the work you need doing. Remember that the lowest quote isn't necessarily the most cost effective.
You're Hired
Hiring a professional may seem a costly expense you can possibly do without. Bear in mind though that this person is trained to deal with parts of a project you may have no experience of. Also any materials you require will cost a professional builder less money as they have built relationships with suppliers and can get discounts which will not be available to you. Remember also that your hired help will most probably expect you to pay up-front for the materials you need, and that they will have purchase.
Great Expectations
Be realistic in your expectations. Particularly in the length of time a job will take, and the total cost of your renovation project. No matter how carefully you plan and budget, things can and do go wrong, and you can end up with a big headache and larger than anticipated bill. Most building projects will go over price by at least 10%, which is usually caused by an unforeseen rise in the cost of the building materials. Making sure you have sufficient funds to cover any extra costs will save you worry later and another trip to the bank to increase your loan.
That's not forgetting the weather, which may inconveniently affect building work in progress.
You might also like...