What Mortgage Do I Need to Buy a Home for My Parents?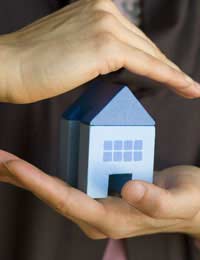 If you are lucky enough to be in a position to help your parents by buying them a second home as either a gift or for them to rent, you should be aware of a few practicalities before you carry out the good deed. Buying a second home for your parents may not be simple, depending on how you are going to use the property.
Moving Them Into The Property
Renting out a property to your parents will be classed as second-home ownership in the eyes of the mortgage lender, assuming you already have a first home. Under normal circumstances, if you bought a property and rented it out to anybody else other than your parents, this would be classed as a buy-to-let mortgage. By renting to your parents or any other close family member, this switches it to a standard second mortgage.
Buy-to-let mortgages generally consist of higher rates than a second mortgage, so it is to your favour that the property will not be classed this way. Some lenders may consider giving you a buy-to-let mortgage on the property if you plan to rent it out to others at some point in time, and it will not be exclusively for your parents use.
Tax Implications
If you do decide to buy the property and rent it out to others at various points of the year, say perhaps when your parents are in their main home, you will need to consider a buy-to-let mortgage.
A buy-to-let mortgage will be seen as an investment, and you will need to pay income tax on any profit you make from the property.You will, however, be able to deduct any expenses from the running of the property, such as rates and administrative costs, from this amount. You may also be allowed to class the interest payments on your mortgage as expenses, which will lower your tax bill.
Once you sell this second home, you will need to pay up to 40% of any profit you make in the form of Capital Gains Tax.
If you are buying the property on a second-home basis, and receiving rent from your parents, you will still have to declare this to HM Revenue and Customs. They will assess how much you are charging your parents for rent, and decide if you need to pay tax on this.
Often if you are charging them just enough to cover the mortgage or below market value, you will not be taxed on this. If, however, they see you as making a profit from your parents, they will consider this to be an income and tax you on it.
As policies of mortgage lenders differ from country to country, it's worth speaking to a professional financial adviser who specialises in overseas properties. They will be able to confirm how a lender would view you buying a home for your parents in that particular country.
Giving Them a Deposit
If you are thinking about offering your parents a deposit for the property but putting it in your name, it may be advisable to give them the deposit and seeing if they can obtain a mortgage themselves. It could be more economical to give your parents as much capital as you can for the property upfront, as this will mean you don't have to pay income tax and Capital Gains Tax. In order for your parents to afford the mortgage, they will have to prove to the lender they can afford the monthly repayments.
Sharing The Mortgage With Parents
Another option would be to get a joint mortgage with your parents, or act as a guarantor for them. Though traditionally parents tend to act as a guarantor for their first-time buyer son or daughter, it is possible to switch the role.
By sharing the mortgage payments, a mortgage lender is more willing to offer your parents and yourself the mortgage, as long as you can still afford the monthly payments. If one of you defaults on the loan, the other will be there to make up for any shortfall and share the risk.
Helping your parents buy their dream home either at home or abroad is a great way to give something back to them for all the hard work they have put in over the years, but you must make sure it is still affordable.
You might also like...