Bricks and Mortar Vs Mobile Home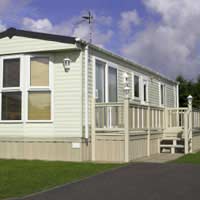 If you are seriously considering owning holiday accommodation you and your family can return to every year, but feel daunted by the huge expense of owning a larger-scale property, plus the financial commitment that it requires, a mobile home could be just the thing for you.
Buying a mobile home can provide you with a more flexible, cost-effective second home option. It is possible to own a mobile home, in a European location of your choice, at the fraction of the cost of buying bricks and mortar.
Advantages of Buying a Mobile Home
Buying a sited, or manufactured, mobile home means that you are able to move straight into your equipped accommodation. You will also find yourself in an established community, where other mobile home owners are able to advise you and help you get to grips with local customs.
A sited mobile home also benefits from the many exclusive facilities available at the park it is sited on. Most residential mobile home parks are situated directly by picturesque villages, and are usually located within easy reach of airport and road links. On-site facilities also usually include a swimming pool, leisure complex, shops and 24 hour security.
Some residential mobile homes are designed or adapted to your specifications, to provide personal touches that will make you feel more at home. This more affordable form of living also makes a suitable retirement option, for people wanting to embrace a slower pace of life and enjoy the fantastic weather all year round, in places like Spain or Portugal. Many companies will organise a site inspection trip for you to view the sited mobile homes currently available.
How it Works
Manufactured homes are constructed in a factory and then shipped and transported to the Residential Park, where the home is sited and connected to the mains services. This ensures the overall cost of this type of second home is far cheaper than traditional bricks and mortar options, although the choice of location will be a lot less varied. If your most important considerations are financial however, sited living provides you with the opportunity to enjoy regular breaks in your own property.
What you get for your money:
A large landscaped plot.
Residential property that is fully furnished, equipped and managed on your behalf.
Attractive facilities and amenities.
Air-conditioned accommodation.
Access to a residential community of like-minded people.
What to look for
Check the floor plan for more size specifications.
Interior and exterior looks and features vary considerably so shop around until you find the perfect mobile home for you. Forget the caravan look. Most mobile homes are designed to look and feel like traditional brick built bungalows, and can be fixed to foundations.
Interiors can include luxury fittings like a Jacuzzi, expensive ceramic tiling and designer wallpaper.
Compare the cost of sited living to owning bricks and mortar in a similar location.
If you are considering buying a second-hand mobile home however, be sure to thoroughly inspect the condition of the mobile home you are purchasing. It is important that it is it good shape and doesn't require a great deal of work, before it is inhabitable.
Restrictions
Owning a residential sited property does not give you the same flexibility as bricks and mortar, when it comes to renting out your property or selling it on. You are not free to sell your home to anyone that has not been approved by the site management. The site owner will not withhold approval unnecessarily however.
Anyone staying in your property must comply with site rules. Failure to abide by these rules could result in your eviction.
When you sell your mobile home you will have to pay the site owner 10% commission fees.
You might also like...