Buying a Second Home Abroad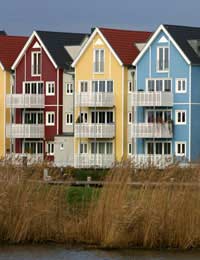 Recent statistics suggest that around 6 million British citizens live abroad permanently with approximately another 600,000 living abroad for part of the year. For most of these, it's due to work or because they own a second home abroad. For many it's simply a getaway that they're after in a climate different to the UK. This makes France and Spain the most popular place for British people to buy a second home, however many travel further a field and buy in Florida, Dubai and Australia. Wherever you choose to buy a second home abroad, there are a few essential areas to consider before you do.
Buying in the Right Place
One of the most important considerations to make when you're thinking of buying a second home abroad is to choose wisely when it comes to location. Many areas have already seen their property boom occur and they're unlikely to rise in price by much so there's little chance of you making a large amount of money when you go to sell your second home. Other areas are up and coming and have a far better potential to make you a sizeable amount of income when you eventually sell. Research as much as you can about the local area, the resale value of local properties and of course whether the area is considered desirable.
Other than the financial aspects of buying in the right location, if you're planning to use the home as a place to holiday now and again, you'll also need to look into whether it has the amenities you require. If you like the area and can imagine yourself either living there or visiting there regularly then that is one of the most fundamental considerations you'll have to address before buying. When making that choice, you should also take into account any travel costs you'll have to incur when getting back and forward to your second home abroad. Every now and again you may have to travel to your home abroad to check on an unexpected repair or issue and you will need to ensure you have the funds available to make the travel plans to do so.
Decide Whether to Let Out Your Home Abroad
If you have a mortgage on your second home abroad or simply have everyday expenses to pay on it, you may find that renting it out during periods when you're not there is financially sensible. You should research local property management agents so that you know exactly what costs are involved in them maintaining your property for you in your absence. If you also intend on them obtaining tenants for you, factor these costs into your rental income so that you know whether it's viable to rent out and still make some money on your home abroad.
You also need to let the UK tax man know that you're renting out a property you own abroad as this is considered income. You should seek advice on whether the country you own in has a double taxation agreement with the UK. If not, you may be liable to pay tax in both countries and this can be very expensive. If you do decide to rent out your home, make sure it is through a reputable company as you want to ensure that the tenants or holidaymakers in place there are respectful of your property. Also, set up a standing order so the money is paid directly into your account each month and you don't have to chase the letting agency to get it.
Financing Your Purchase of a Second Home Abroad
Before signing any contract abroad, make sure you have the finances available to complete the purchase. You have to factor in any legal fees, local fees and tax fees before you agree to anything and the best way to do this is to use a lawyer who will outline all the costs involved in purchasing before doing so. When you're sure you can afford to buy a second home abroad, consider how you will pay for it. There are many possible options, from outright buying with cash to obtaining a mortgage. Many people think that having a mortgage free second home is the best option, but often this just means you've sunk a lot of mortgage into an asset that may not really make you any money back.
You can consider a mortgage in the country where you're buying, but dependent on the area, this could be very risky. Some countries have very stable interest rates, others are more prone to extremes, so again look into this and seek advice before signing for anything. Some people choose to utilise the option of equity release in their existing home. This means that you can use some of the money tied up in your first home or take out a second mortgage, but again this can be a risky move. If you're unable to make the payments on your second home abroad, you may be at risk of losing not only that home, but also your primary residence.
Essentially the most important aspect to consider when buying a new home is that you're financially able to do so and are fully aware of all the costs involved. If you're dealing with the law in a different country, be sure that you get the best advice available and only when you're 100% sure, go ahead and sign the contract and enjoy owning a second home abroad!
You might also like...