Can I Get a 100% Mortgage for My Holiday Home?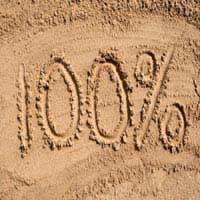 Mortgages for 100% of the property's value might seem like they have become extinct, but there are still some countries in which you will be able to get a 100% mortgage or close to.
Just because you can obtain a 100% deal though it does not necessarily mean that you should accept it. Remember that in many instances buying overseas is exactly the same as the UK and you will be expected to meet your repayments.
These few questions should give you more information on whether you will be able to get a 100% mortgage.
1) Which Country Do You Want To Buy In?
A) The UK
B) Europe/America/Australia
C) France
2) How Long Do You Want The Mortgage For?
A) Below 20 years
B) 25 years
C) 30 years plus
3) What Term Do You Want it On?
A) Interest Only
B) Repayment or interest only
C) Repayment only
4) What is Your Employment Situation?
A) I'm self-employed and can't prove my income
B) I can prove my income but have a few credit blips
C) I can prove my income
Your Answers
Mostly A – 100% Might Be Out Of Reach
A 100% mortgage unfortunately may be out of reach to you. If you are looking to buy in the UK you may be able to negotiate a 100% mortgage with your lender but these deals are typically reserved for first-time buyers and almost impossible to get on a second property.
If you are looking for a mortgage term of less than 20 years this will add to your hardship as it means you will have very high monthly payments. You will be aiming for the unattainable if you can only pay back the mortgage on an interest-only basis. Also if you cannot prove your income a 100% deal will be out of the question.
Mostly B – You May Be Limited In Your Country Choice
The country you have your eye on will determine how much a lender is willing to offer you. Typically a country like Australia/Canada/USA will only lend around 70% LTV, while others such as Cape Verde only 50%. Other countries like South Africa will lend up to 80%, as will a few others.
It is worth researching which country you want to buy in and see how much they are willing to lend to you. There will be more options available to you if you are able to repay your mortgage on a repayment basis and not interest only.
Mostly C – A 100% Option Might Be Available To You
If your chosen destination is France or its surrounding area you may be in luck. France is only one of the few counties that are still offering 100% mortgages. If you do want a 100% mortgage you are going to have to take out the mortgage for a longer period, such as 30 years.
You are also going to have to pay it back on a repayment basis as France will only offer 80% of the property's value if you are paying on an interest-only basis. You will need to be able to prove your income and still show that you are a safe reliable applicant. The same rules will apply as they do in the UK and you will need to show you are making a good investment and the property is not going to drop in value.
If you are willing to make some sacrifices in terms of the location of your second home you may be able to get a 100% mortgage. The number of countries that are offering 100% mortgages are extremely limited to places such as France. Even then you will need to have a squeaky clean credit record and be willing to adapt to their mortgage terms.
You might also like...